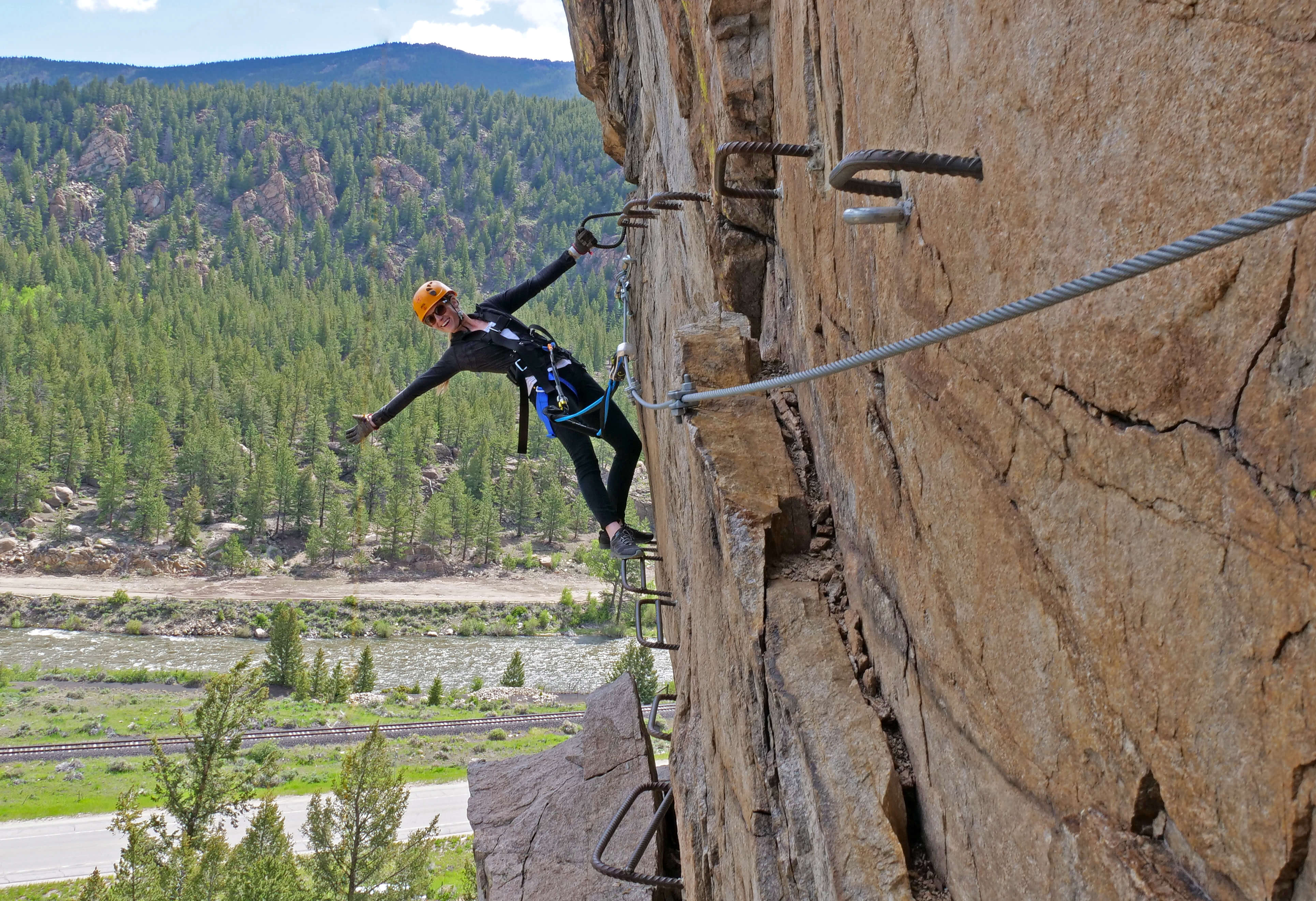 Chances are, you've heard the term "Via Ferrata" being thrown around a lot lately. That's because via ferrata is quickly emerging as a favorite outdoor activity all over the world. While via ferratas have existed for a very long time and are very popular overseas, it hasn't been until recently that they have begun to catch on here in Colorado and the rest of the country. We'll go ahead and break down what via ferrata's are all about, the history behind them, why they are so popular, the equipment, safety, and fill you in on all you need to know about this incredibly fun adventure.
Via Fer-Whata?
The term "via ferrata" is Italian for "iron way". This makes a whole lot of sense when you start to understand what a via ferrata course is actually made of. A via ferrata is a route on a mountain face equipped with steel cables, ladders, and other fixed anchors. These steel attachments into the cliff face makes it so climbers can make their way across, up, and down cliff faces that would of been nearly impossible without the assistance of these attachments. This system allows for even inexperienced climbers to make their way onto ledges, vertical walls, and mountain peaks that they never knew was possible. Special equipment is also utilized to ensure that climbers will be attached to a cable at all times protecting them from any falls.
History of Via Ferrata
Ferratas were created out of pure necessity. While versions of via ferratas had existed long before, they took the form of how we know them today back in the Dolomite mountain range during World War I. Soldiers in Northern Italy needed a way to get troops and equipment through hostile and difficult conditions of the Dolomite mountains and established the iron rungs and ladders in order to help them ascend these steep faces. That was 1914, fast forward 116 years and now they are a extremely popular way for the masses to access and enjoy rugged mountain areas like never before.
Why You Need to Give It A Try
Via Ferratas unlock experiences that non-rock-climbers otherwise wouldn't be able to have and keeps you feeling confident and safe while you're at it. These days there are lots of incredible guided via ferrata options which provide you with instruction, equipment, and epic routes so that all you need to do is show up prepared for a heck of a day. Ferratas are in a  similar family of outdoor activities as ziplining and other aerial courses but its much more involved and will have you feeling like a true Rocky Mountain rock climber. Many of the courses include extra features like suspended bridges, ziplines, and rappels. It will have you leaving the course with a sense of accomplishment. You'll walk away with a thrilling mountaineering experience you'll want to tell everyone about.
The Gear That Keeps You Safe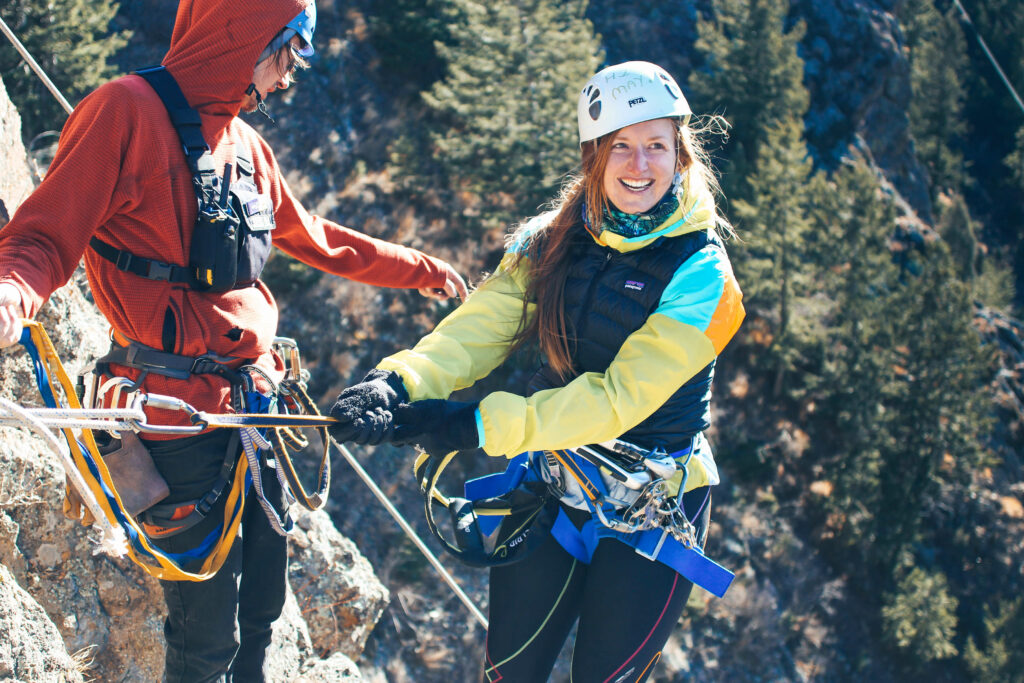 Via Ferratas utilize a specific set of gear designed to protect you from all possible scenarios. The main pieces of gear includes carabiners, lanyards, a helmet, a harness, and gloves. Guided trips will provide all the necessary gear for you so that all you need to bring is a solid pair of shoes that won't fall off your feet.
Carabiners
Carabiners are a locking system that you will attach to the cable that runs along the course. Via Ferratas use two carabiners so that once you hit areas that require you to unhook and re-hook onto another section of cable, you will always have one connected. The cool part of carabiners with via ferratas are that many of the guided tour companies utilize a special kind that only allows one to open at a time so that nobody can ever disconnect both carabiners at the same time. Carabiners and their locking systems are very user-friendly and easy to use while keeping you very safe.
Lanyards
These are what will connect your carabiners to your harness and are specially designed to reduce any consequences of a fall. They are built so that if you fall, they will stop the force of the fall and reduce any abrupt stop.
Helmets
Always protect that noggin! Helmets are always a necessity when out recreating in order to protect you from bumping your head on the cliff face or any potential falling debris from above.
Harness
The harness is fundamental when it comes to any form of aerial adventures. Most via ferratas will have you using a sitting harness that has a waist belt and two leg loops. They allow a wide range of movement while not giving up any level of safety. Your lanyards will attach to this harness as your last piece of equipment that maintains your connection to the course.
Gloves
These are just so you can effectively grip the necessary rungs and not rough up your hands too much!
Guided Adventures

These are a great option for those looking to enjoy the thrill of via ferrata without having any climbing experience or having to invest in equipment. Guided via ferratas like AVA's Mount Evans and Granite adventure's are the best option for many for several reasons. The sheer creativity and ingenuity of these courses are insane! They'll have you ziplining in and out of the course, traversing epic rock features, and walking over impressively long suspended bridges high above the open space below your feet. Another benefit to guided trips are the guides themselves. They truly love what they do, are extensively trained, and will keep you laughing and confident throughout your experience.
The Best Courses in Colorado