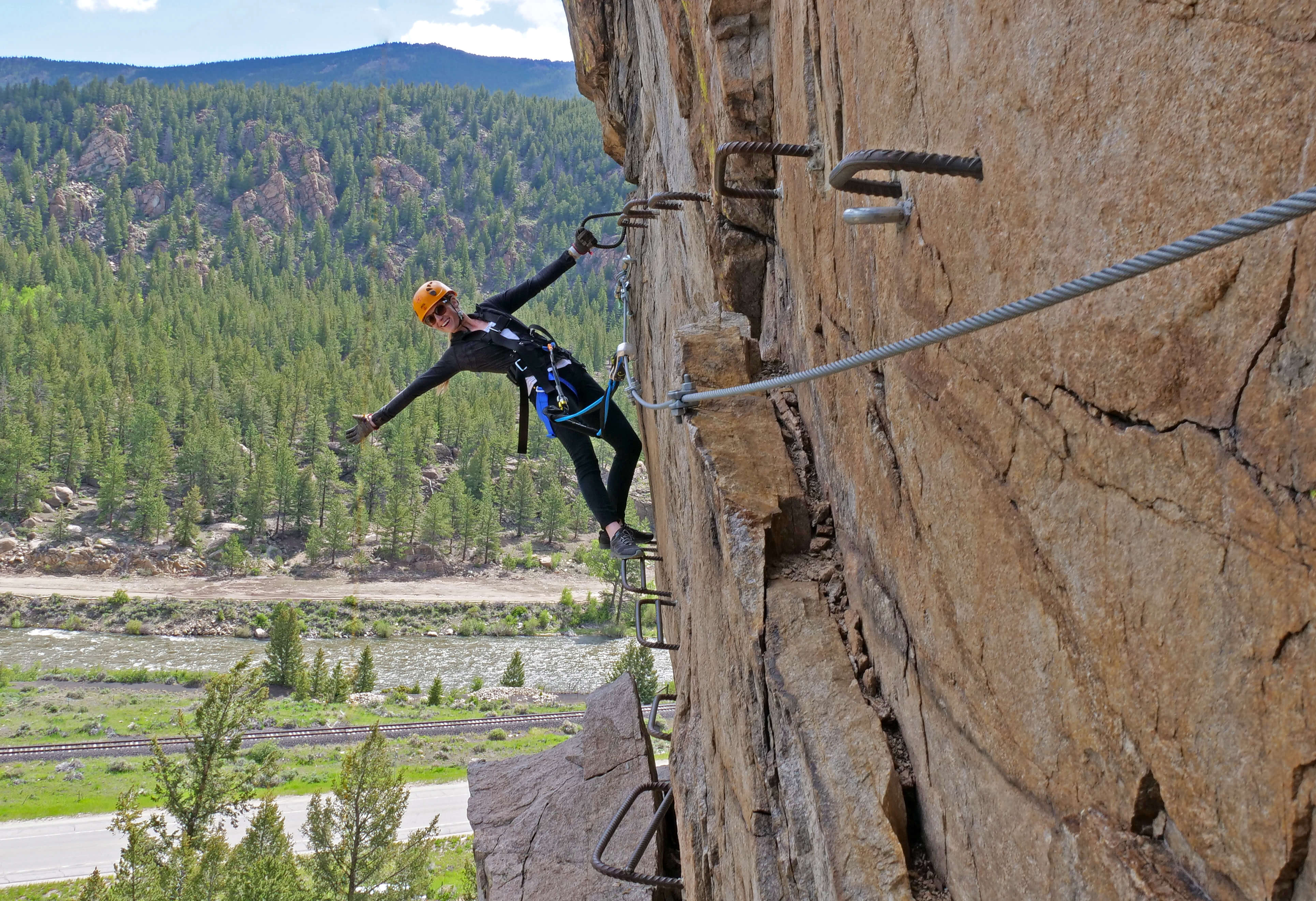 Written by Mairi McAtamney
Colorado is known for it's diverse and exciting environment where there are oh-so-many options for what you can do while you are exploring it's landscapes. You could go hiking, rock climbing, ziplining, hot air ballooning, rafting, biking but the most exciting and challenging activity is a via ferrata.
A via ferrata brings all the thrill that is ziplining and rock climbing and traversing into one. An AVA via ferrata will allow you to rest assured that your guide has the experience to keep you safe and entertained. Our guides know the courses in and out and our knowledgable of the local environment's features and characteristics. If you are looking to try an activity that pushes the boundaries and completely embodies the essence of what a Colorado adventure should be, look no further than a via ferrata experience.
Who should attempt a via ferrata?
Good question let's start off the requirements you must be at to get on a via ferrata course. You must be twelve or older to go on a via ferrata. You must weigh at least or over forty pounds and no more than two hundred and fifty pounds. If you meet the above requirements then go for it and have the adventure of a lifetime. If you still are not sure this is the right fit for you then let me ask you one thing. Are you ready to take a trip that will knock your socks off? You do not need any prior experience, all you have to do is be willing to try and have a great time. 
Via Ferrwhata?
A Via Ferrata is basically a climbing course on the edge of a cliff. You will complete a course of ziplines, iron rails, fixed ladders, cables, jungle bridges, rappels, and traverse along cliff edges. But fear not! You will be clipped in the whole time you are ascending the steep cliff face. It can be pretty scary but don't worry, we have got just the equipment to keep you locked in and super safe while up on the course. 
Rock the right gear.
When getting suited up for the course you will want to arrive dressed the part! Basically all you need, is to wear shoes that will stay on your feet and that are closed toed. It is essential that you do not wear crocs or flip flops. I would also suggest wearing leggings or shorts that you don't mind getting a bit dirty.
If you notice it might be chilly then bring either a light jacket or sweatshirt with you. Then our guides will help you get all suited up in a super secure harness, a helmet (feel free to bring a GoPro with a helmet mount if you want to capture some awesome video), and 2 lobster claw hooks that are attached onto lanyards that are super heavy duty and will keep you nice and locked in. The crazy thing with how these lobster claws work is if you unclip one the other one automatically locks which is an excellent tool when traversing the cliff edges and the anchor points.
AVA's Guides
Not to mention you will be adventuring with some of the best trained guides who are lifetime climbers and climb all over the world just for the fun of it. AVA also puts their guides through 3 times the amount of training and on course time than other companies and have some of the best guides who live and breath the via ferrata course and want to ensure you are as safe as you can be and are still having a thrilling and exciting adventure. 
So what are you waiting for?! Check out AVA's different via ferrata options to learn more then book a epic via ferrata adventure and give you and your friends the Colorado adventure they will never forget!