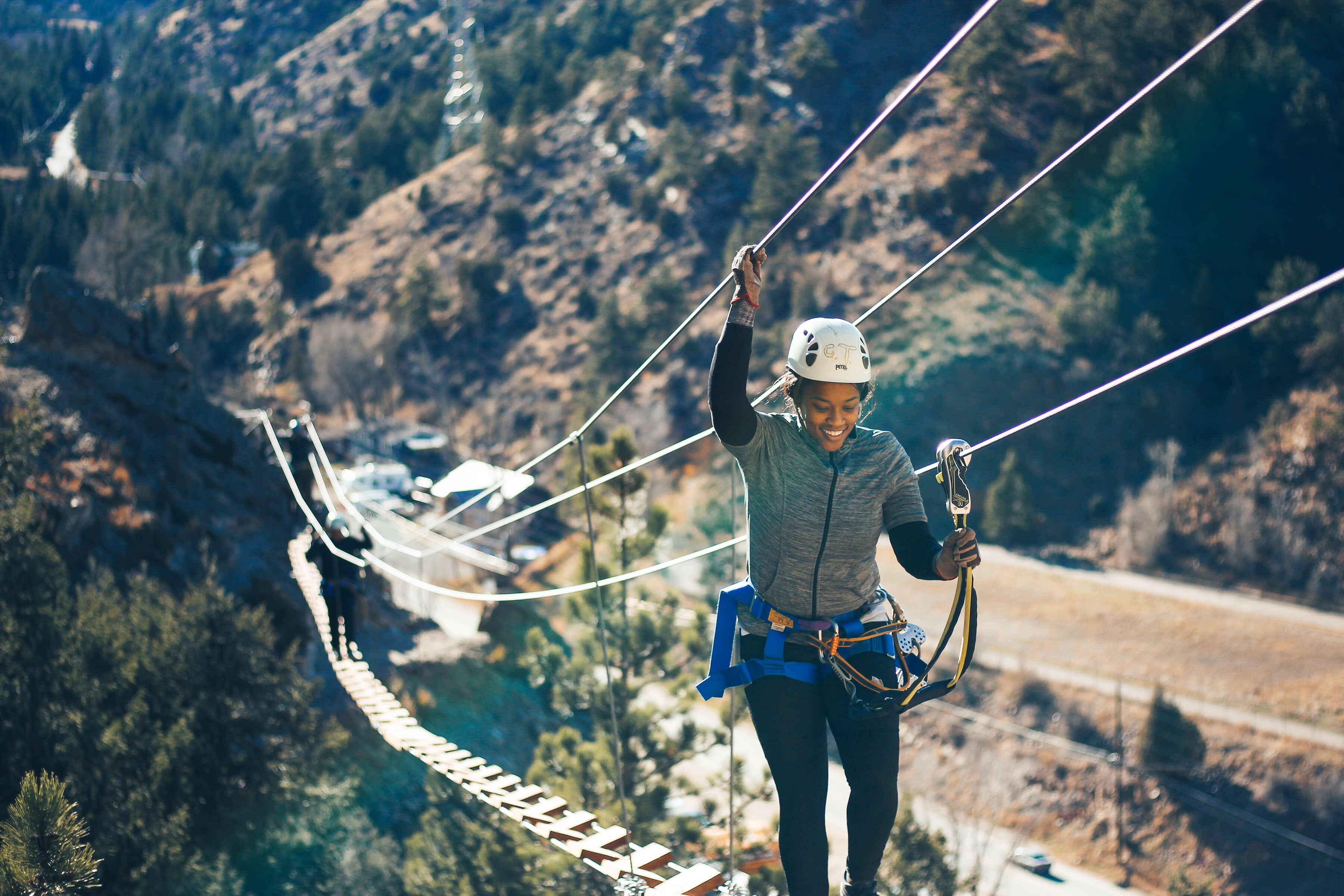 One of the most noteable Via Ferrata courses in Colorado is the Telluride Via Ferrata.  Not only is it an insane adrenaline rush, but it's open for anyone to venture out on (with the right gear, that is).  Maybe you're already taken on the Telluride course and you are looking for a new adventure.  There are multiple Via Ferratas around Colorado that are unique with stunning views, and we've got a few of them right here for you.
Buena Vista
You can find this beautiful town between the Collegiate Peaks and the Arkansas River.  There are endless amounts of adventures to choose from such as soaking in the hot springs, snowshoeing, fat biking, fishing, and whitewater rafting in the Arkansas River, explore the best-preserved ghost towns nearby and obviously a top notch Via Ferrata course!  The Granite Via Ferrata is a brand-new adventure that will have you traversing above Arkansas River Valley.  At the top you will enjoy views of the Arkansas River, Mosquito Range, and the Sawatch Range.  To begin you will zipline into the course over the treetops where you will reach the cliffside that you will have to maneuver along carefully.  After you are done scaling the cliffside, free-fall down 60 feet and continue to test your limits by crossing few suspended bridges and rappeling down 70 feet of rock face.
Manitou Springs
This unforgettable artistic little town is located just west of Colorado Springs.  This Via Ferrata is relatively new having opened in 2018 and is built at the popular Cave of the Winds Mountain Park.  The waters of Manitou Springs are rumored to have healing powers, but maybe it is just the minerals in the water. You will have to venture out and experience it for yourself!  We recommend a guide to traverse with you up 2,744 steps of elevation. Along the way you will experience stunning views of limestone cliffs and the rock walls of Williams Canyon. From there you will be tested by gravity as you climb along a cargo net, test your balancing skills across a balance beam and then zip line your way back down.
Idaho Springs
This quaint historic town has tons to offer for only being 3.5 miles long. You can take a guided tour of the mines and sift for you own gold flakes, stop by the Charlie Taylor waterwheel just off I-70, visit the Indian Springs resort, try Beau Jo's famous Colorado-style pizza, and even stop at the Heritage Museum!  Whatever you decide, make sure the Mount Evans Via Ferrata is on your list, too.  This course opened in 2017 and is a popular guided adventure just 45 minutes west of downtown Denver.  AVA Rafting & Zipline is best known for world class whitewater rafting trips as well as exhilarating aerial adventures and so much more.  You'll start this activity by jumping in the back of AVA's zip truck to the top of the cliffside.  Once there, you'll be guided to navigate the cliff face along a series of bridges and iron rungs.  This 3-hour tour will have you climbing over 300 feet above ground where you will see views of the Continental Divide and Idaho Springs.
Royal Gorge
Cañon City has a lot to offer, from tours of Fremont county cemeteries, coal camps, rock hounding, and a self-guided geology hike.  However, their newest addition was the Via Ferrata at the Royal Gorge Bridge and Park!  This guided tour above the gorge will have your heart racing as you climb along the red granite walls to the top.  From there. peek over the edge to get a stunning view of the Arkansas River.  The Royal Gorge Via Ferrata is open year round, weather dependant, and once of thie highlights is ziplining across the gorge and then free falling at 50 miles per hour.  Have some more cautious explorers with you?  This course includes three different routes that you and your crew can choose from, which vary based on the length of time and your skill level.
Estes Park
Located just 70 miles from Denver, you will have a multitude of adventures to choose from.  Here you could enjoy whitewater rafting, horseback riding, fishing, and hiking during the summer! If you are more of a winter person, head out for some snowshoeing, sledding, or hiking among the Continental Divide.  Estes Park is also a popular destination due to it's proximity to Rocky Mountain National Park, and a multitude of visitors head that way year round.  Created by the Kent Mountain Adventure Center, the Via Ferrata is a new excursion. You will climb over 600 feet where you will have a clear view of the Rocky Mountain National Park and Estes Park below.  This Via Ferrata is shorter than the others listed above, but would pair well with a day in the national park.
There you have it!  Five different Via Ferratas to choose from all over Colorado with completely different views.  For more information, call AVA today to fine a Via Ferrata excursion for you.