The Via Ferrata originated in Europe in the early 1900s but is a much newer addition to Colorado's outdoor recreation scene. Because of this many visitors and locals, do not know the extent of Colorado's Via Ferratas or what exactly what to expect on a Via Ferrata adventure!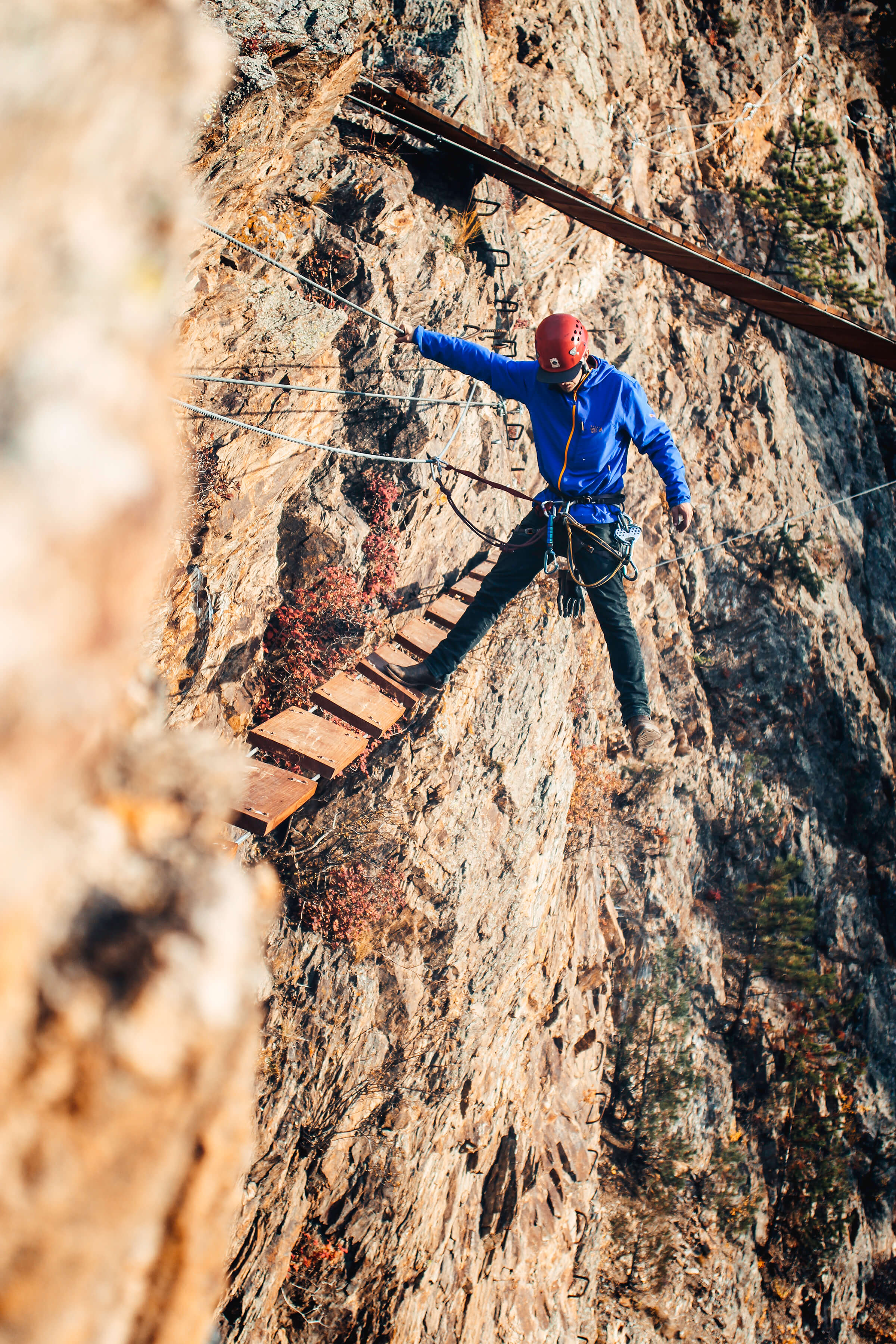 Our agents get numerous questions such as what the trip entails, what type of training our guides receive, what happens when the weather is bad, and can I be afraid of heights and still try a Via Ferrata course?
Here are some of these commonly asked questions and our answers, so you can start your exciting Via Ferrata adventure on the right foot!
1. Where are the courses and how long are they?
AVA (Arkansas Valley Adventures) has two Via Ferrata courses located at two locations: Idaho Springs and Buena Vista. Our Idaho Springs's Mount Evans Via Ferrata is already open for the season and is located only 45 minutes away from Denver. This course takes you into the mountainside above downtown Idaho Springs and the Chicago creek. Here, you can expect to feel the rush of adrenaline, as you traverse across bridges, climb the cliffside, and even experience a 70 foot zipline rappel!
The second location is Buena Vista, with The Granite Via Ferrata opening May 12th. The Buena Vista course takes you climbing into the Collegiate Peaks and provides an opportunity to sail over the Arkansas River. Our adventures may last up to 3 hours depending on the speed of your group, but there would still be plenty of time to pair your experience with a rafting or zipline package if you choose! This allows you to experience the best of Colorado's adventures in one day!
2. What if I am afraid of heights?
Acrophobia, the fear of heights, affects nearly 6% of the population. Our AVA guides are not only trained on Via Ferrata technique but seek to make the experience an exciting and comfortable one for you and your group! With that in mind, they have experience working with adventure seekers of all levels and with those who may be afraid of heights. Our guides understand that a Via Ferrata course may be a unique challenge for some, and they work to understand and mitigate any concerns guests may have; if at any point on the course you feel uncomfortable, please share that with your guide, and they will do their best to get you on track!
Additionally, always follow the guidance of your guide when pertaining to safety. They will show what it is expected on the course, how to securely attach yourself, and how to safely traverse. This explicit guidance will hopefully make everyone feel more comfortable, before even beginning the course!
3. How well-trained are the guides?
AVA guides have the highest level of training to provide an experience that guests will brag about for years to follow. Guide training occurs in partnership with the Association for Challenge Course Technology (ACCT), in which guides end up taking up to 200 hrs. Our guides must also lead a trip under the supervision of a senior guide before embarking on their own trip!
Guides are constantly made aware of potential weather scenarios, and in case of any emergency on the course, guides will evacuate the area after being in touch with operations management for further evaluation of the situation.
4. What can I expect for weather?
Being prepared in Colorado can sometimes prove challenging because of how rapidly the weather can change. There are times of the year in which you may experience all four seasons all in one day, so being prepared is the best way to enjoy your activity. A raincoat and sunscreen are both ideal to have with you!
It also gets colder the further you venture into the mountains, so pack layers that can be easily taken on or off! You are welcome to bring along a small backpack that will not affect the functions of safety equipment. If you have too many layers when you reach our outpost, please leave anything you are not taking with you in your vehicle, as we do not have any lockers for use at our outpost. We also require closed-toed shoes to be worn and that long hair be tied up.
5. Are the courses safe?
Our courses were originally designed with evaluation from those with experience in Via Ferrata architecture and are maintained in accordance with the city building inspector to ensure that they are always up to the highest industry standards.
Your guides will instruct you on proper safety technique and remain present and vigilant the entire time to ensure your safety. While on course, it is important to always remain aware of your surroundings, ensuring that you follow the directions provided by your guide. All guests will be given a Via Ferrata kit to wear, including a helmet, harness, and lanyard with carabiners.
For added safety, we ask that our Via Ferrata course participants are a minimum age of 12 years old and that everyone weighs under 250 pounds; guests may be discreetly weighed upon arrival to the course.
If you are looking for an adrenaline filled adventure with plenty of opportunities to experience thrills and stunning Colorado scenery, check out our Granite Via Ferrata or our Mount Evans Via Ferrata! Because of its unique features and undeniable adrenaline rush, the Via Ferrata is quickly becoming one of the top outdoor adventures in the United States, and we are lucky to have two easily accessible Via Ferratas right here in Colorado! Already tried both of ours? Check out bucket-list worthy Via Ferratas across the world!
To book your adventure, head over to coloradozipline.net, email us at [email protected], or give us a call at 970-423-7031. And be sure to check out all of our adventure packages to get the most thrills out of your Colorado outdoor experience!
Written by Zachary Ochs, Member of the Colorado Via Ferrata Sales Team
Edited by Rosa Canales, Marketing Specialist