1.) What does Via Ferrata mean?
Via Ferrata is Italian for "iron path." A modern Via Ferrata consist of an iron cable that runs along a route and is fixed to rocks every few yards.
With a Via ferrata kit, explorers secure themselves to the cable and minimize the risk of any fall or injury. Often via ferratas will have rungs, steps, pegs and ladders fixed in the rock along the route to aide the climber in their traverse.
2.) How many Via Ferratas are in Colorado?
There are 4 Via Ferrata courses in the state of Colorado. They can be found in Telluride, Colorado Springs, Idaho Springs, and Buena Vista.
Buena Vista: This Mountaintop Via Ferrata course provides spectacular views of the Arkansas River Valley and surround 14,000 foot peaks. This tour includes a via ferrata traverse, bridges, ziplines, and 3 hours of heart pumping fun!
Idaho Springs: The Mount Evans Via Ferrata is only about 30 minutes from Denver, but don't let that fool you… you will be surrounded by the national forest and beautiful views of of the Rockies. This tour includes the cliff side traverse, ziplining, rappelling, and a free fall!
Colorado Springs: Via Ferrata at Cave of the Winds is just outside of Colorado Springs. You will traverse across mountain terrain through cliffs above canyon floors.
Telluride: The Telluride Via Ferrata is perfect for those looking for an exciting adventure. This is the only via ferrata you are able to tackle alone (if you have all the gear) but we highly recommend using a guide for this spectacular trip.
3.) Are Fia Ferratas free?
Typically no, it is not free to do a via ferrata tour. If you have all of the gear and are able to go by yourself then you can tackle the Telluride Via Ferrata without paying for a guide.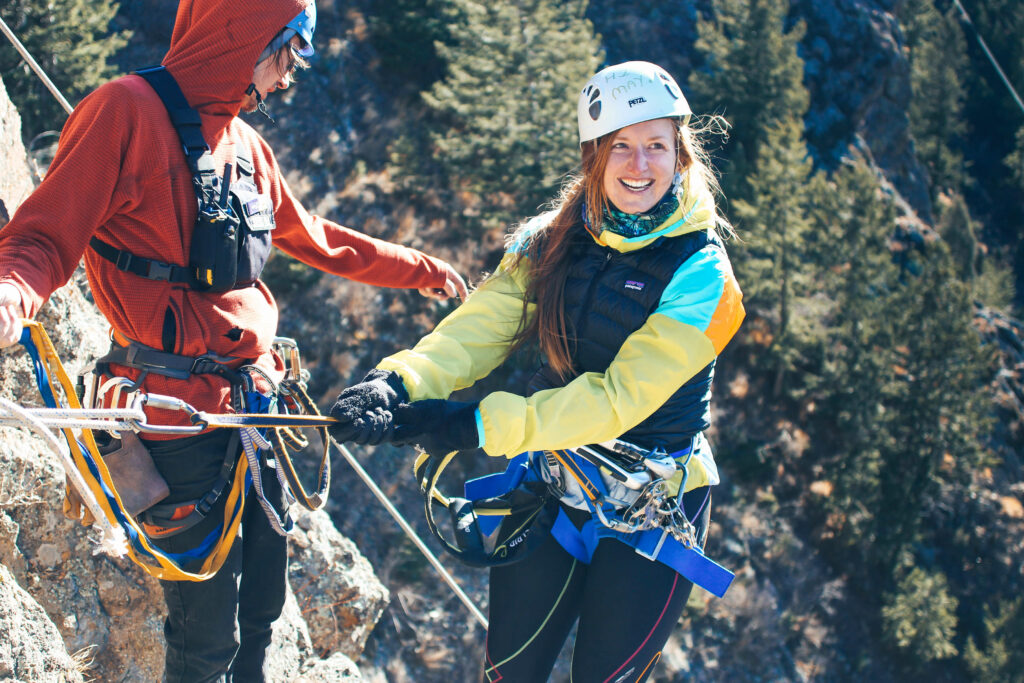 Below we break down who can take you on each of these Via Ferrata tours.
The Colorado Springs Via Ferrata is Owned by Cave Of The Winds Mountain Park.
The Buena Vista and Idaho Springs Via Ferrata are owned and operated by AVA Rafting & Ziplining.
These 3 Via Ferratas do have fees to access, but in return you receive all the gear necessary to make your way across the route with a guide. For first timers, a guide is highly recommended. The Telluride Via Feratta is maintained by the Telluride Mountain Club, but is public and people are welcome to make the traverse on their own. If you are a bit nervous to go out on your own in Telluride there are local guide companies in the area that will take you out on the Iron Path!
4.) True or False? You need to be in great shape to make you way through a Via Ferrata?
False! While there is some physical exertion, almost everyone can make their way through the route! All limbs will be used, but if you can stand and walk you are probably in good enough shape to make it through the course!
Mental strength will be needed more than physical. And if you're worried about your nerves go through a company that provides a guide who can lead and encourage you on the traverse!
5.) True or False? All Via Ferratas are the same?
False! Not all Via Ferratas are the same. Obviously, every Via Ferrata is in its own unique locations, usually in areas with amazing views. But the routes of each Via Ferrata can be very different. While the basic makeup of the Via Ferrata is the same, some have unique features that others do not.
AVA's Via Ferratas include multiple suspended bridges, including one the is over 300 feet above the ground, multiple ziplines, a 70-foot rappel, and an optional free fall!
No matter where you are, if there is a Via Ferrata close by, it will be most fun and unique way to experience your environment. So where ever you are staying in Colorado, find yourself the nearest Via Ferrata and go on an adventure you will never forget!