In short- yes, the Colorado Telluride Via Ferrata can be explored year-round. However, via ferrata is less common during the depths of the winter in Colorado. Telluride has a lot of to offer year round, and their via ferrata course has become a popular adventure for locals and visitors.
Telluride
Telluride is world famous for its incredible skiing and amazing mountain views. This small and remote ski town in Colorado thrives in the winter, but there is more to Telluride than just its ski slopes! While Telluride is beautiful with a white blanket of snow on top of it, it is just as majestic in the summer with the vivid green forest surrounding downtown. The San Juan mountains in the spring summer and fall can fill days with adventure enjoying hiking, biking, climbing, and even a via ferrata!
Via Ferrata is Italian for "iron path", and consist of a cable running along a path that is connected to the rock at various points.
The mountain route is equipped with:
Fixed ladders

Ccables

Bridges

Iron rings

Carved out steps

Pegs
Is it dangerous?
With a proper Via Ferrata kit, you limit any falls because you are safely connected to the cable and have other aids to hold onto. Via Ferrata takes what would be a dangerous route, and makes it (more) easily traversed with much less risk of injury. Additionally, you don't need to be well-versed in rope skills to complete a via ferrata. 
The best feature of a Via Ferrata is that it allows access to amazing peaks and views to those without out the experience of rock climbing or mountaineering. If you are in good enough physical condition, you can probably take on a Via Ferrata with ease.
Be sure to note that Via Ferratas are usually at a high elevation, and without taking time to adjust to the altitude you may feel tired and out of breath quickly. With their ease of access and ability to traverse solo, Via Ferratas will still attract people that are very experienced climbers!
Telluride Via Ferrata
The Telluride Via Ferrata route precariously traverses rock faces up to 600 feet above the forest below. There are sections of this via ferrata that would be impassable without steel cables and iron rungs along the way.
Those who choose to traverse the Telluride Via Ferrata will get an unrivaled view of Bridal Veils Falls, which is the highest free-falling waterfall in the state of Colorado. Along with the waterfall you will have an amazing view of the town of Telluride and the beautiful San Juan mountains! 
When should I do via ferrata?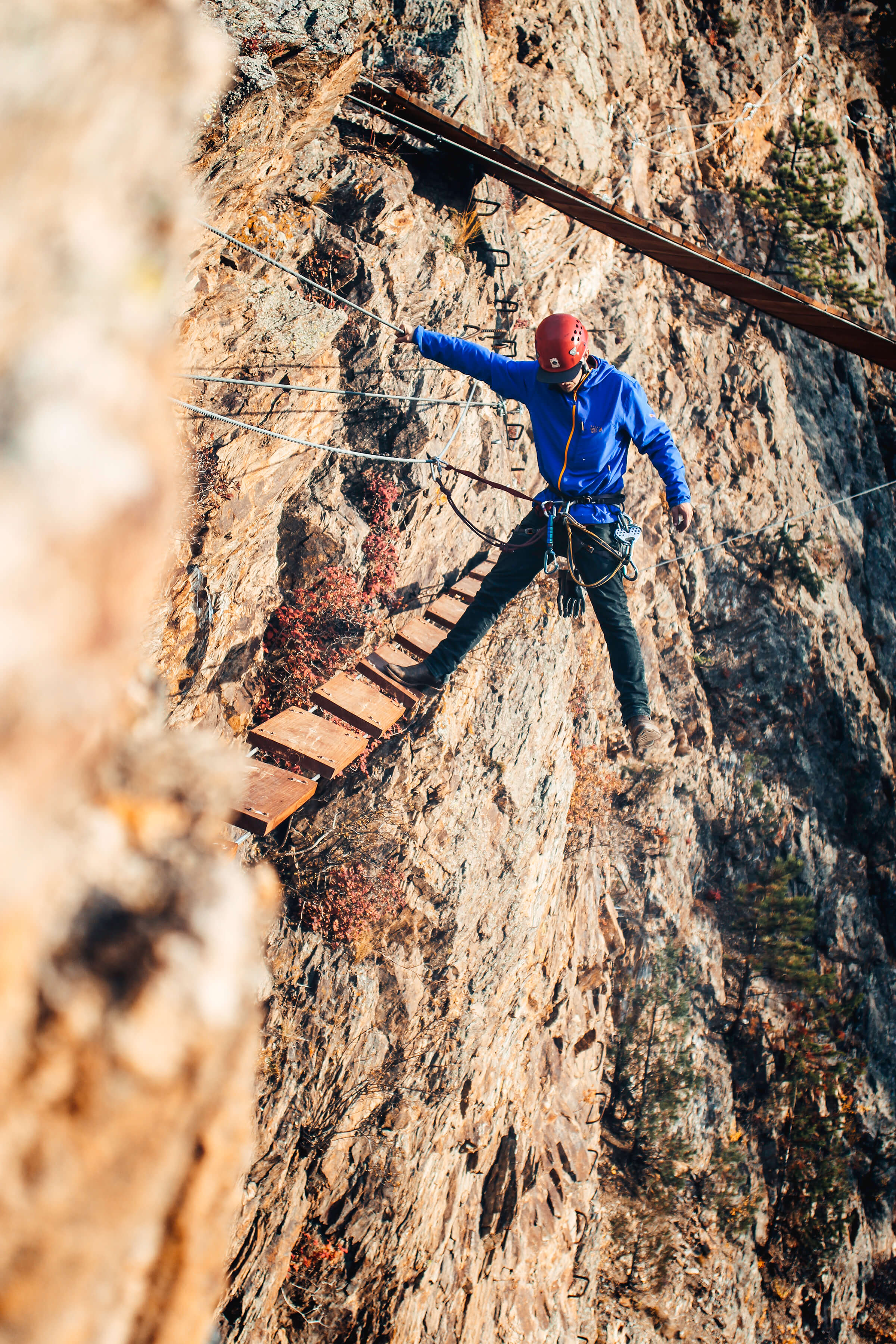 The best time of year to do the via ferrata is in the spring, summer and fall. Make sure to watch the weather forecast as there is no option for escape once you are on the route. Telluride typically experiences rain in the afternoons early July through mid-August so plan accordingly, and get out there early. You do not want to be stuck on the via aerrata in rain, snow or other nasty weather.
The easiest way to get there is to drive up the Bridal Veil Falls Road until you reach the trail head parking lot. There are two, so if you past the west parking lot don't, worry you will run into the east parking lot. The route can be accessed from either its east end or west end and we suggest doing the route east to west as that is how majority of traffic moves. Please respect private property on the west end of the via ferrata and don't trespass on the lower Marshall Creek Road.
When will the Via Ferrata be busiest?
High traffic times include summer weekends, as well as late spring and early fall. During this time, it is best to utilize an east to west loop. If you encounter another group along the route, which is more than likely, let the group with the fewest number of people go through first. Be sure to peer around edges or holler before you start the "Main Event". If another group is going the opposite direction to yours, you may need to wait or back-climb in order for them to pass.
Why should I try the Telluride Via Ferrata?
This Via Ferrata is an amazing experience and should be on every explorers bucket list. In addition to the incredible views, there is nothing like climbing across a mountain range more than 600 feet above the trees. If it sounds a bit intense for you and your party, have no fear, for there are many experienced guiding companies that will take you down the "iron path"! So, be sure to check out Telluride and see the amazing views from this incredible Via Ferrata!