If this destination isn't on your radar for 2021 adventures yet, it should be.  This valley is home to some of the best whitewater rafting on the Arkansas River, the towering Collegiate Peak range, incredible mountain biking, fly fishing galore, skiing at Monarch Mountain, and so much more.
The Town of Buena Vista
Buena Vista sure brings in some awesome adventures with a rich history that helps connect the mountain towns to big cities.  Spanish for "Beautiful View", the surrounding mountain ranges and the Arkansas River that runs through town really helps it live up to its name.  Salida and Leadville are also popular spots in Chaffee County, making a week in the area seem like not enough to enjoy everything it has to offer.
Buena Vista's first natives were known as the Ute Indians, but in 1725 explorers came and settled in the area.  Around 1860, the first gold was found in Denver and therefore, many settlers came to
Buena Vista for profitable mining.  After the mining era ended, people settled in this location because there was an abundance of water in the Arkansas River and surrounding lakes.  Now Buena Vista is a number one tourist hot spot for that same reason.
Other Fun Facts about Buena Vista
The town's elevation is 7, 965 and population as of today is about 2,736 residents.
The Arkansas River, as we mentioned earlier, plays one of the biggest parts in the town, it is known to be the biggest white water rafting town in the country.
In the 1920s, Buena Vista had the reputation as the "Head Lettuce Capital of the World"
Buena Vista is home during Austin Charlie's youth into adulthood.  Austin Charlie is the lead singer for the band, Of Mice & Men.
Also, the hometown for Nate Solder during his youth before playing Offensive Tackle in the NFL for the Patriots.
Activities to Do in Buena Vista
Whitewater Rafting on the Arkansas River
During the summer, Buena Vista is a safe haven for so many rafting guides from all over the world to get a taste of the Arkansas River.  AVA Rafting & Zipline can provide every level of rapids from an adrenaline junkie's heaven to a family fun adventure on the lower class parts of the river.  Browns Canyon is one of the most popular stretches of whitewater in the country and was dubbed a National Monument back in 2015 – don't miss out on it!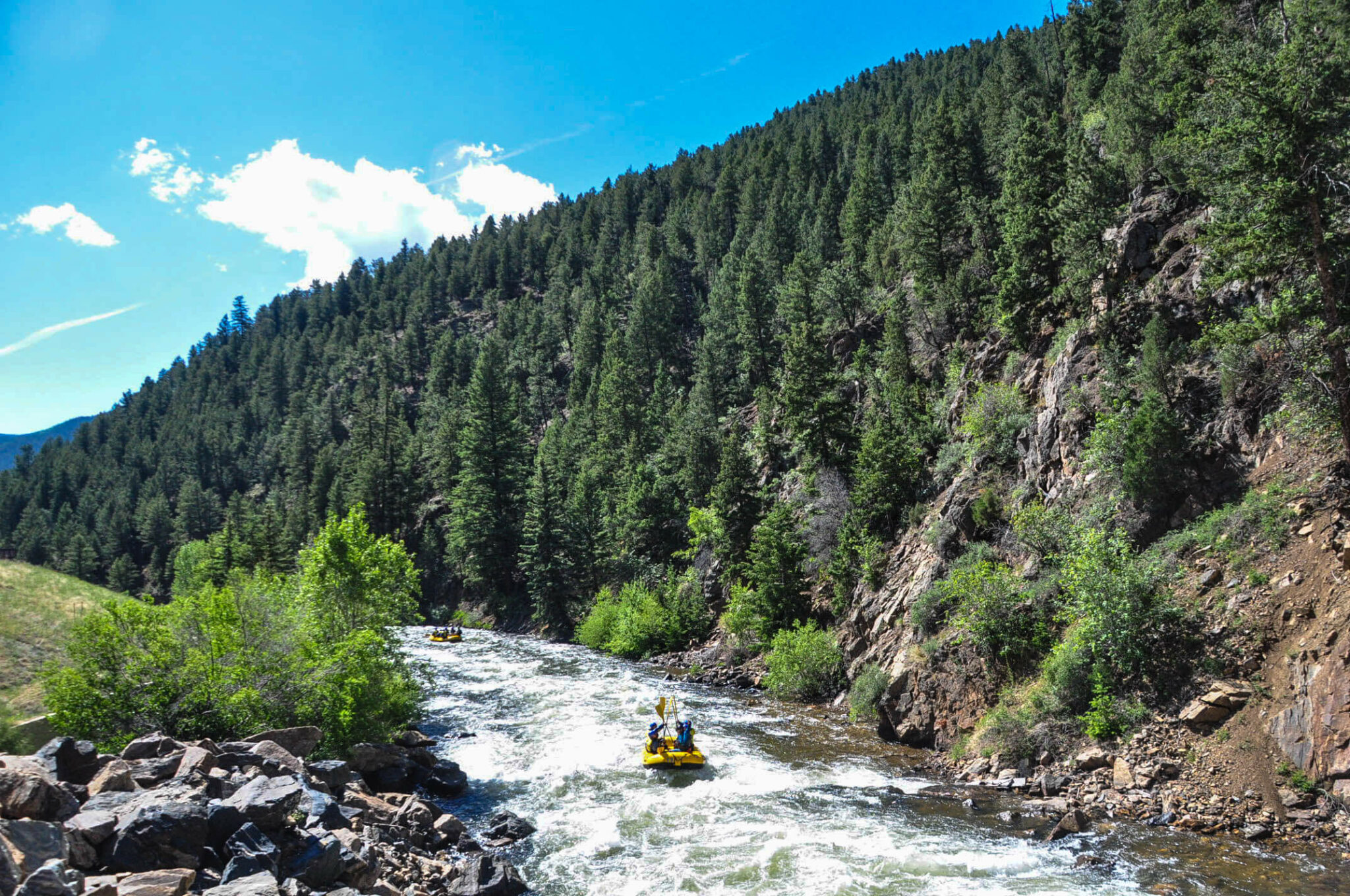 Aerial Adventures in Buena Vista
Experience the Arkansas River Valley on another level with an aerial adventure.  Between AVA's Mountaintop Zipline tour and Granite Via Ferrata, you can indulge in some great mountaintop adventures in the area.  The Via Ferrata is a ropes course that involves one to partly climb up a mountain, traverse along the cliffisde, and even zipline a few times.  Our Via Ferrata and zipline courses provide memories that will keep you returning and views to make you never want the day to end.
Arkansas River Fly Fishing
On the Arkansas River, you'll find perfect spots for fly fishing opportunities nearly year round.  If you're wanting more excitement, then get on a kayak and run down the river from a Class II-V with your fishing pole in tow.  River activities are why so many visitors head to Buena Vista late spring through the fall season every year.
Hiking, Mountain Biking, Horseback Riding, and More!
We could go on about the extensive options for outdoor activities in the area that are just a stones throw away from Main Street.  Trails that can best accommodate hiking, mountain biking through the Colorado Rockies and various horseback riding tours are all available not far from the heart of Buena Vista.
Meander Along Buena Vista's Main Street
If you're not as much of an adrenaline junkie, Main Street can provide shopping opportunities for the whole family.  Local shops, artisan galleries and more are abundant in town, as well as some incredible restaurants and breweries.  The Lariat provides some great live music and high end cuisine, or swing by Eddyline Brewery for a quick beer and some grub.
Check out Historic Areas Surrounding Buena Vista
For all of you history buffs, Buena Vista has such a vibrant story from how the town was founded and who has resided in such an amazing place.  Buena Vista has various historical and ghost tours to share the town's stories of mysteries and wonders of the town's history as well.  The most popular ghost town in the area is Saint Elmo, roughly 40 minutes SW.  Originally a mining destination, the town was incorporated in the late 1800's but eventually merged into a ghosttown by 1958.  You can still grab souveniers at a few places when visiting, but the majority of structures at Saint Elmo are bare boned and ready to be explored.
No matter what you're into, Buena Vista may seem like a small town but is jam packed with various opportunities for everyone.  It's no wonder why people of all ages love to come and visit, move and relocate to a rich mountainous town.  Whenever you head over to the Buena Vista area, don't forget to check out everything AVA Rafting & Zipline has to offer May to September every year.