Colorado has a lot to offer on the ground, but not many have considered what it looks like from thousands of feet up! AVA Rafting & Zipline offers many aerial adventures that will give you an entirely new perspective of Colorado and everything it has to offer.
Zipline from a cliff or mountaintop
Try ziplining in Colorado and zip from a cliff in Idaho Springs to enjoy the incredible view of the continental divide. This 6-line course will allow you to view different aspects of Idaho Springs and all it has to offer. The historical downtown area, Argo Gold Mine, and Clear Creek river are only a few sights you'll catch as you zip around. 
Head down to Buena Vista and experience the Arkansas River valley from the mountaintop! Once you reach the top, you will overlook the Collegiate Peaks mountain range. This zipline course offers a unique 900-foot dual race line. 
Via Ferrata
Similar to Rock Climbing, Via Ferrata pushes you to your limits with high-altitude thrills. You'll find this unique experience at our outposts in Idaho Springs and Buena Vista. Instead of climbing vertically, you will be traversing cliffside atop iron rungs inserted into the cliff face. 
Mount Evans Via Ferrata begins at the base of the 14,000-foot peak in the Colorado Rocky Mountains. It is a unique, guided mountaineering trip that includes ladders, rails, cables, and wobbly bridges. You will experience a scenic view of Idaho Springs and the Chicago Creek at over 300ft above ground!
Head down to Buena Vista and check out the Granite Via Ferrata for an entirely different view and experience. This brand-new adventure starts with two zip lines above the Arkansas River Valley. This course is built at the same base of the Collegiate Peaks as the ziplining course in Buena Vista at 14,000 feet. During your 3-hour tour, you will do some zipline, rappel down the rock face, and traverse across suspended bridges.  
Photo courtesy of 5280.com
Hot Air Balloon
For the ultimate aerial experience of Colorado, we recommend taking a trip on a Hot Air Balloon with one of our Colorado Hot Air Balloon Rides. These flights launch from South Park Valley; a convenient location for those lodging in Breckenridge, Denver, Colorado Springs, Buena Vista, Canon City, and the Fairplay region. As you are lifted into the sky you will see 36 of the 54, 14,000-foot peaks Colorado has to offer.
This trip will allow you to experience a memorable view thousands of feet in the air. You will travel around 10 miles while enjoying classical music in the background as you take in the scenic view of the Rocky Mountains. At the end of your adventure, you will take part in a small ceremony with champagne, mimosas, or sparkling cider and a brief history of ballooning.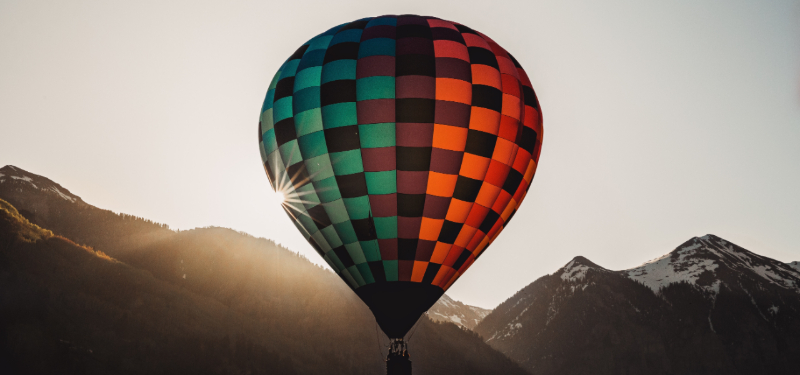 Photo courtesy of grizzlyrose.com